Free eBook
Digital Quality Management System
Develop the internal business case
Is your organization about to make the transition from a paper-based to a digital workplace? Or does the organization already have a digital quality management system, but wants to replace it? In both cases it is advisable to develop a business case.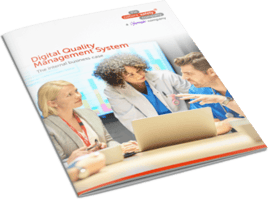 The business case describes the purpose of the project and provides insight into costs and benefits. A clear business case ensures involvement and improves the chances of successful implementation.
This eBook serves as guidance for writing an internal business case and addresses:
What is a quality management system?
What objectives does the organization want to achieve with such a system?
What is the current situation with regard to quality and safety within the organization?
Which individuals are involved and what will change for them?
How do you ensure successful implementation?
How do you calculate the Return on Investment of a quality management system?
Downloading information about purchasing quality & risk management software is probably not something you do on a daily basis. It is therefore possible that we contact you to ask you what triggered you to download our eBook. We can most probably help you!
Yes, I would like to download the eBook