How to select participants for patient participation?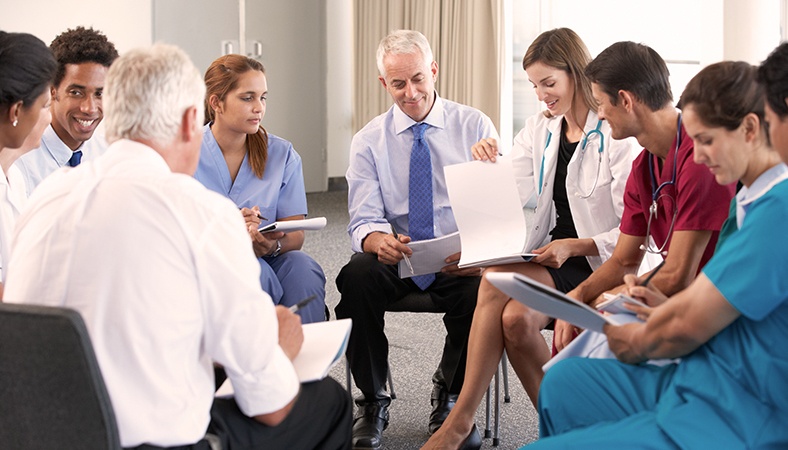 There is a growing recognition that actively listening to experiences of patients/clients and their relatives can substantially improve the quality and safety of care, without major change processes being necessary. We call this patient/client participation.
The main challenge is to identify appropriate patients/clients for participation. This blog describes how to select the right participants.
Patient/client selection
By identifying appropriate patients/clients for participation a distinction can be made between:
1. Experts having first-hand experience or patients'/clients' representatives
The advantage of experts with first-hand experience is that they can share their unique experience of living with (a specific) disease and healthcare.
The advantage of representatives is that they can represent the interests of a particular patient group from a professional and representative's point of view.
2.
Organised or non-organised patients
Organised patients are members of patient organisations that represent their interests. There are national, provincial and regional patient organisations. (National) associations are often organisations that focus on a specific disease. They have extensive knowledge of the care and treatment options for specific patient groups.
Often they are also aware of the paths to pursue by patients in home-care situations and they can share practical tips and experiences. Provincial or regional organisations like to actively contribute ideas about activities on a local level and their procedures are usually not linked to a specific disease.
The provincial or regional platforms are collaborations of patient and consumer organisations in healthcare. They look after the general interests of patients and consumers from an independent position. This way they can influence the opinion of health insurance companies, care providers and professional groups on healthcare quality and policies. Different organisations may join the platforms.
Non-organised patients of care institutions can be best reached directly by the care institution, for example through distribution of leaflets and posters in waiting rooms or - even better - by contacting patients directly in person.
Forms of participation
It is also important to select the right form of participation.
| | |
| --- | --- |
| One expert having first-hand experience | One patient may provide sufficient information, or the quality of care is improved for one patient. |
| A random group of experts having first-hand experience | A group of patients willing to participate. If applicable, a selection can be made. |
| Sampling | Scientifically valid selection of participants to carry out results analyses. |
| Representative | Representatives of patient organisations represent their constituencies. |
| External | The patient/client perspective can also be conveyed by an independent person, like, for example, a mystery guest. |
Patient characteristics
Some patients or patient groups have particular characteristics that need to be taken into account when choosing the appropriate tool. Not all tools are suitable for all patient groups. Sometimes caregivers (providing informal care) are therefore more suitable for participation. They can also accompany or support the participating patient. These characteristics may, for example, include the following:
Does it concern patients who are hospitalised, outpatients, or do they receive home care?
What is the frequency of healthcare utilisation?
Does it concern children, young people, adults, or patients of all ages?
Are the patients mobile?
Do the patients master the skills of reading and writing?
What are the health literacy skills of the patients?
Do some patients have a different cultural background?
Patient/client recruitment
Below we have listed a number of criteria that may be used when recruiting patients or their representatives. These criteria are derived from the criteria developed by the Dutch Patient Consumer Federation (NPCF) for patient representation in panels. These criteria mainly apply when patients are actively involved in the development or implementation of improvement activities. To a large extent, these criteria do not apply to questionnaire surveys, for example.
Being an expert with first-hand experience, having access to recent, tangible patient experiences, for example as patient representative, as patient or as a person directly involved (e.g. partner).
Being capable of indicating specific bottlenecks in healthcare, treatment and information provision regarding the personal condition.
Being able to think beyond the personal situation. This means that a patient should be capable of placing himself in the position of 'fellow patients/clients' and be able to translate his own personal experiences into general improvement areas. At times this may also require a perspective that goes beyond a disease.
Being aware of current developments in healthcare.
Being willing and able to participate in the planned activity.
Being willing and able to respond to questions and/or texts, in writing and/or by telephone, within the agreed timeframe.
Being willing and able to clarify and, if required, defend concepts of quality and ideas towards doctors, caregivers, policy makers, etc. Does the participant enjoy discussing the topic in a working group from a patient/client perspective?
In as far as possible, the delegation as a whole should represent the target group. It is a plus if the delegation has connections with the patient organisation and also tries to put forward information on behalf of others.
There is a structure that ensures support and verification by a large group of other patients.
General considerations patient participation
While recruiting participants it is important to take the following points into account:
Explain the objective of participation.
Explain the stage of the improvement process concerned and how this affects the participation.
Explain what will happen with the results to avoid subsequent disappointments. Not all good advice implies direct changes, as it may not always be feasible from a financial or practical point of view. Clearly state the possibilities.
Bear in mind that some patients need more support than others to participate in a meaningful way.
Take into account possible limitations of patients. Make sure to organize meetings in accessible areas and at convenient times. If necessary, arrange for patients/clients to be picked up and brought back.
Keep patients/clients and other persons involved informed, also following the participation.
Informing and supporting patients
When involving patients it is important to inform them about their role and how they can contribute. Expectations should be clear from both sides. The role of the patient and whether or not additional support is required depends on the tool used.
eBook about patient participation
Do you want to know more about patient participation and the tools you can use? Download the eBook 'How do you turn regular care into excellent care?'. Learn from practical examples how you can use patient participation to improve the quality and safety of healthcare.