How patient safety software should work with other healthcare IT
Updated at: 1 February 2022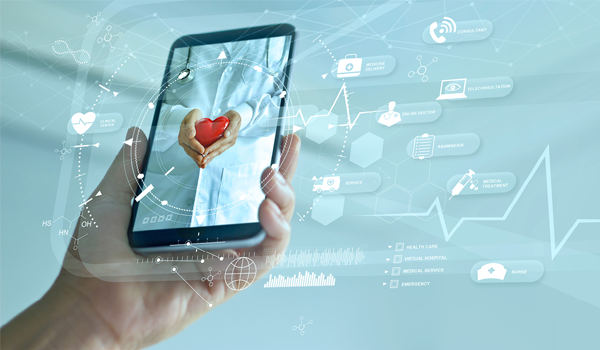 When leveraged properly, patient safety software offers a multitude of benefits to your healthcare organization. However, this software must also be capable of working in tandem with other healthcare applications. Poor "communication" between software diminishes the end user's experience and hinders the ability to facilitate positive patient outcomes. In addition, improper integration between patient safety software and other solutions increases the risk of incidents and medical errors.
Below, we discuss the advantages of ensuring that your organization's patient safety software is well integrated with other healthcare IT programs, and we examine some of the key components of patient safety software.
Can patient safety software work with other healthcare applications?
Yes; patient safety software can integrate with many other healthcare applications across the IT landscape. However, many hospital software programs are institution-specific or internally built. That is because each facility has unique IT needs. Striking the right balance between system standardization where possible can streamline processes, yet still allow for a facility to meet individual needs. Too much rigidity, on the other hand, restricts an organization's ability to craft custom IT solutions for their facility and creates hurdles to data sharing and innovation.
While every hospital and health system is unique, in most facilities you can expect to find more than a dozen integrated or standalone healthcare operations applications that assist with:
Credentialing
Billing, coding, and revenue cycle
Electronic health records
Access management (vendor and visitor)
Appointment scheduling (directory software that is patient-facing)
Staffing and scheduling (workforce management)
Medical research
Medical diagnosis
Spend management
Contract management
E-Prescribing
Telemedicine programs
Medical equipment management
Health-tracking for mHealth apps
While not every one of these applications must seamlessly sync with patient safety software, the digitalization of healthcare is prompting software makers to make connections easier than ever using various protocols.
Before selecting patient safety software for your hospital, it is essential to determine what an integrated patient safety solution must accomplish, and which other healthcare software in use it must integrate with. If your facility uses antiquated programs or internally built patient safety software, modern software for other applications may not fully integrate with your technologies. That is because software is constantly evolving and becoming more complex.
Signs your technology platforms aren't playing nice with each other
Unless you have substantial experience in the IT industry, you may not know whether your current technology platforms are integrated properly or even capable of integrating at all. If you are concerned about the state of your existing software and applications, we recommend looking out for these red flags.
You must use multiple systems to complete a task: If you and your staff have to switch between three or more applications to complete a single task, then your software is insufficient and likely not integrated correctly. A fully integrated patient safety software program will allow your organization to handle most related tasks using only one or two applications. By making the switch, you can improve employee efficiency and help reduce incidents and dangerous medical errors.
Patient complaints have risen: No matter how good your patient care and customer service are, you are bound to receive an occasional complaint. However, these should not be a frequent occurrence. In particular, you should always address complaints about your providers, care environment, digital systems or communication quickly. If internal users and/or patients are having difficulties using your systems, then it is time for a software upgrade.
Staff must duplicate data manually: An integrated system will allow your staff to transfer data from one application to another almost immediately. If your workers must manually reenter patient data on a regular basis, or use spreadsheets as a go-between, then your integration is severely lacking.
Software failures are common: A software failure can derail the flow of normal operations. While an occasional mishap is bound to occur, software failures should be a rarity. Quality patient safety software has built-in redundancies to minimize the risk of a complete failure. On the other hand, using multiple systems that are not properly integrated can drastically increase software failures.
Upgrades require significant capital or resources: The use of cloud-based—or software as a service (SaaS)—applications taps into performance, value, flexibility, and scalability, while also helping to ensure safety. With SaaS deployment, upgrades and improvements are rolled out faster, automatic data backup occurs, systems easily integrate with one another, and security protocols are built-in at both ends—the host site and at the user's point of access. If your facility is lacking in these areas, it may be time to explore an integrated solution.
Processing times are painfully slow: If submitting an electronic document or uploading information to your server is a painfully slow process, then your integration practices are likely to blame. A customized, properly integrated platform will facilitate safe, fast, and efficient data sharing.
How to integrate patient safety software with other healthcare IT
When implementing patient safety software, you will have several options for integrating it with your other healthcare applications. If you have a large in-house IT department, then these professionals will be able to facilitate the integration. If not, consider partnering with an external IT services provider specializing in migrations and software integration.
With that said, some healthcare applications may not be fully compatible with patient safety software. That is especially true of old or outdated applications. If you face this problem, consider choosing patient safety or quality management software that offers comprehensive data management solutions. These health systems provide you and your IT manager and technology team with the tools to handle everything from data management to compliance.
>> Learn more about the main criteria for selecting a quality management system.
What is patient safety software?
The risk management software market has seen drastic improvements in technology and development. Alternatively referred to as "risk management software," patient safety software is among those improvements. Patient safety software provides hospitals and other healthcare organizations with tools to:
Report incidents or medical errors with patients or staff
Use checklists for assessments and safety rounds
Offer surveys to gather feedback from patients and staff
Provide insights for management and government bodies
Analyse (near) incidents, feedback and potential risks
Start and monitor improvement actions
This technology also gives patient safety managers the ability to mitigate the potential for financial losses that may occur due to clinical or administrative errors.
Modern patient safety software gives hospitals the ability to respond to threats and incidents rapidly. This technology also improves global patient safety during the entire care episode. Generally, patient safety managers and quality- and risk managers are the endpoint users of this software.
What are the advantages of connecting patient safety or risk management software with other care applications?
Due to the increasing complexity of the modern care environment, patient safety software is a necessity for every hospital, pharmacy or other care facility. It allows clinicians and patient safety staff to closely track every patient interaction and review the type of care rendered. Ensuring that your patient safety software fulfills the following needs—or easily integrates with an application that does, is essential:
Improved data management: In addition to mitigating risks, patient safety and associated software also enhances the data management process. Your staff will be able to register data using user-friendly web-based forms. They can also automate (redundant) processes to save time and eliminate the risk of human data entry errors. Your team will also have the ability to review relevant data and identify opportunities to refine the care process. As a healthcare organization, managing data and maintaining organized patient records are essential. These tasks play a crucial role in both patient safety and compliance.
Improved compliance with regulations: The primary role of patient safety software is to protect your clients, making it a huge part of the risk management software market. This mission satisfies your team with data management tools, tracking capabilities, and other functionalities. This software also provides your team with the ability to keep detailed records to ensure quality compliance with laws and regulatory guidelines. A rapid response is also an essential part of maintaining a safe hospital environment for patients and guests. Patient safety software expedites your ability to respond to potential adverse events or complaints from clients. This feature will also help you avoid reduced reimbursement rates and regulatory penalties.
Improved patient outcomes and quality of service: In addition to facilitating a higher level of patient safety, risk management software also helps your team improve patient outcomes and the quality of service you provide as well as global patient safety. Maintaining a trend of positive patient outcomes is essential for the health of your clients. It is also important for protecting the reputation of your facility and care providers.
Patient Safety software FAQ's
Here are some frequently asked questions about patient safety software.
Does patient safety software include workflow tools?
While not all patient safety or risk management software includes workflow tools, many programs do. When searching for a software provider for your healthcare organization, be sure to find out what capabilities the program includes.
Is patient safety software expensive?
The exact cost of your patient safety software will vary depending on the size of your healthcare organization, the provider you choose to partner with, the complexity of the integration, and more. Our TPSC Cloud software offers solutions for both small to large-scale organizations. However, you should consider implementing patient safety software as value-added instead of money spent. The benefits of this technology will pay dividends for years to come.
How long does it take to implement patient safety software?
The implementation period can range from a few days to 1-2 months. It will largely depend on your organization's size, internal preparation and the existing applications the software needs to integrate with.
Our software can be implemented quickly and at low cost. Several ready-made applications are available within our TPSC Cloud platform, with matching registration forms and follow-up workflows. Our consultants are available to assist you. Are you looking for a more specific solution? No worries. Based on available building blocks and our integration toolset we are able to quickly build a custom solution.
Does patient safety software really improve care outcomes?
In addition to having many other benefits, patient safety software can drastically improve care outcomes. Your staff will be better equipped to provide an optimal level of patient care while also insulating your organization against various risk factors.
Patient safety software is an invaluable asset to modern healthcare organizations. It provides a multitude of tools and management solutions that can enhance your ability to care for your patients and staff. If you are not already using cutting-edge patient safety software, you should consider upgrading your current technologies with The Patient Safety Company's versatile solutions. We have an eBook to guide your process of writing an internal business case.

Jens Hooiveld
International Marketing Manager