Incident management in healthcare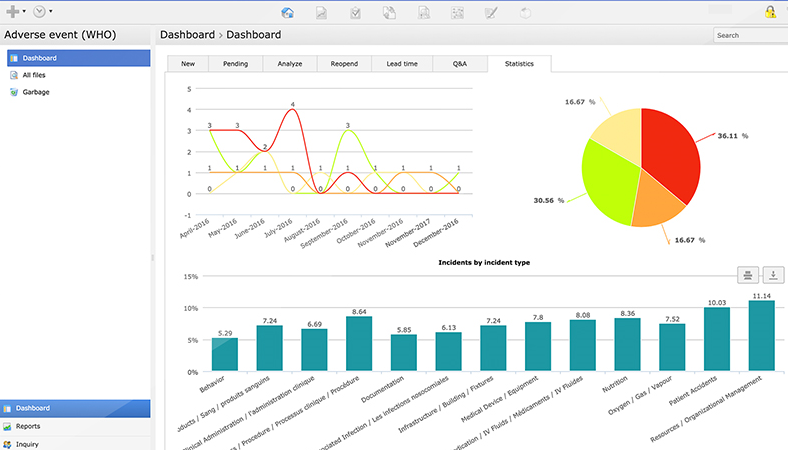 Incident management is a key component of lowering patient risk and improving quality management. This makes it absolutely crucial to have your incident management healthcare procedures in order. The demands of modern-day care services make the right digital incident management tools dispensable not just for smooth and transparent incident reporting, but also for continuous improvement of your work process, staff job satisfaction, and the health services that lie at the core of your organization.
The Patient Safety Company provides easy, fast, and efficient incident management software solutions that match your operational goals while facilitating constant improvement of your service levels. Through well-implemented incident management, health, safety, and client satisfaction remain the primary focus of your entire organization, regardless of the specific disciplines, methods, or patient groups you represent.
Incident management system
Any incident management system has to revolve around detection, prevention, and minimization of potential patient risks. Such risks depend heavily on the sector in which you are active, as well as on the needs that characterize your clients and the care they require. This implies that a perfect incident management system for Ontario nursing homes will not suffice for an emergency ward in rural Canada, and vice versa.
Precisely for this reason, TPSC designs your incident management system (IMS) to meet the specific requirements of your unique operation. We have easy-to-use platforms that put incident management software at arm's reach for all your people, free from thresholds to promote open reporting of incidents. That way, service levels keep improving while potential risks are spotted and eliminated before incidents or near-incidents can jeopardize patient safety.
The field of care demands driven workers with constant attention for the needs of your patients. That is why our online, app-based software facilitates a 24/7 incident management system. Most importantly, we make sure that all persons involved feel free to help spot and report risks and incidents at an early stage, to simultaneously encourage curative and preventative aspects of improving quality care.
We know from experience that finding the right incident management system for Canada based healthcare institutions can be a challenge. Our in-depth knowledge of the field and its many disciplines enables us to help you build the incident management system that nest suits your needs as well as those of your clients.
Read more about the options for analyzing incidents with our software and its translation into management reports.
Incident Management eBook
How to ensure that your organization learns from incidents?
How to change towards digital incident management?
Do you want tips for analyzing incidents?
Read our eBook for more information about incident management.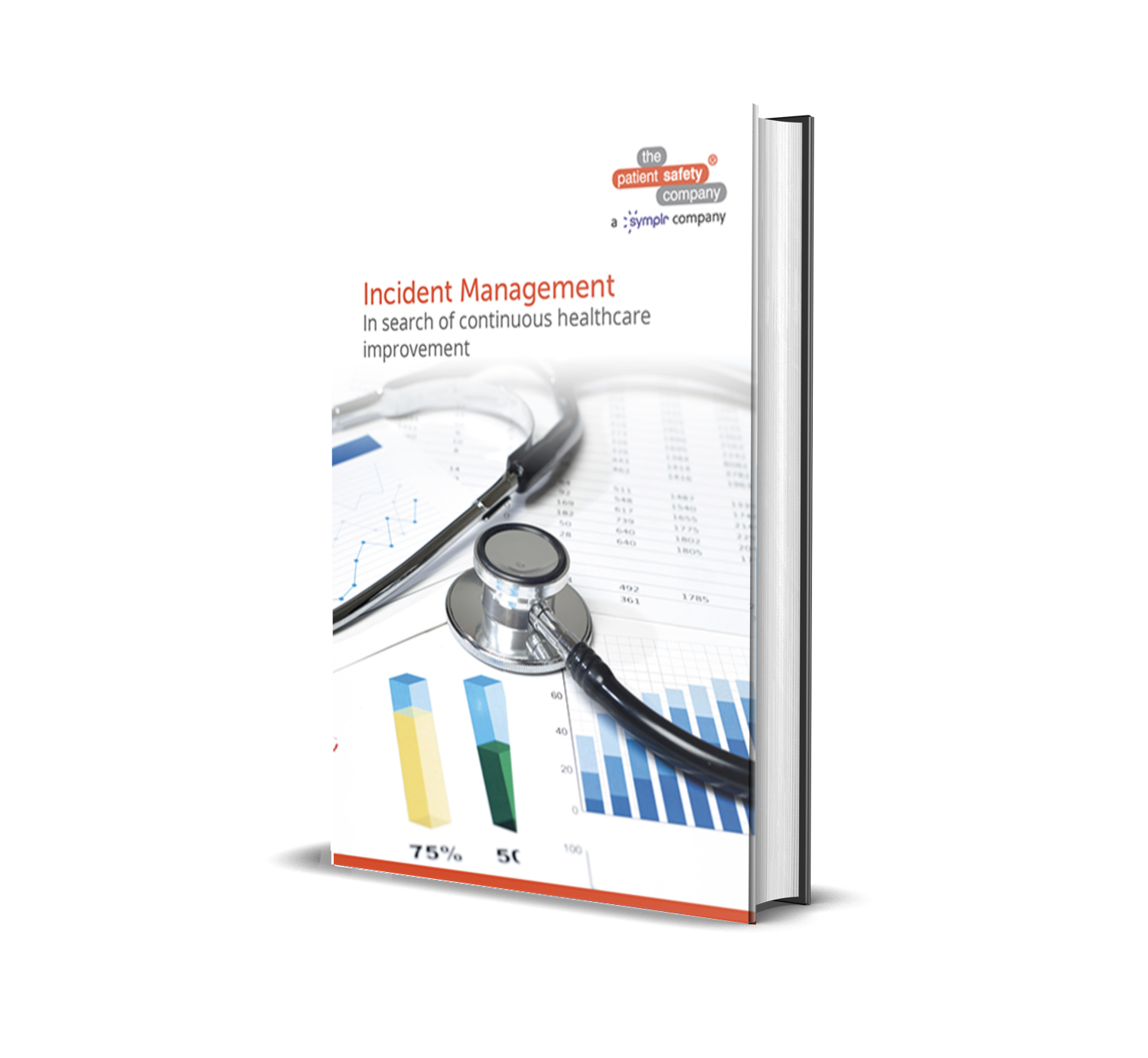 What is incident management in healthcare
Although every trade and industry have its own specifics that dictate what incident management should entail, healthcare organizations are uniquely particular in terms of risks and near-incidents. Anyone working this closely with vulnerable people will acknowledge that identifying risks early avoids incidents that can have lasting impact on patients, without even mentioning the image, reliability, or reputation of the organization that serves them.
We encourage any healthcare professional, from nurses to supporting personnel and from doctors to board members, to reflect critically on the question "what does incident management mean for my line of work?" We match your answers to this question with our own years of experience in healthcare environments in Canada and abroad. That way, you and your people receive the incident management tools they need to detect, assess, and eliminate risks in a constant cycle of improved quality services.
Types of quality management systems
TPSC quality management solutions embody sufficient flexibility to accommodate for any specific demands of your organisation's professional expertise. All relevant aspects can be tailored to suit your needs.
No matter which type of quality management plan you choose to implement, however, every solution fully meets the requirements of international ISO 9001 industry standards. To us, this is simply yet another way of ensuring that quality management complies with the realities of working with vulnerable people, their careers, and the passionate professionals who make it all come together.
Why is incident management important?
In a perfect world, it should not be necessary to explain why incident management is important in healthcare settings. Nonetheless, we see how avoidable mistakes, unnecessary injuries, lawsuits, and worse are still commonplace throughout the healthcare field. Sadly, in today's care environment, it seems there is hardly enough time to ask that crucial question: "why is incident management important - and what can I do to make it an integral part of the job I love?"
In this less-than-perfect world, then, we will sum up the main benefits of our quality management system for your organization, your staff, and the patients who make it all worthwhile:
Improved prevention of healthcare incidents and reduction of their potential impact;
Continuous advances in quality of care as incident occurrence rates drop;
Increased efficiency of staff and management;
Improved patient satisfaction;
Establishment of a safe work environment;
Promotion of open (near) incident reporting and attention to patient safety;
Uniform registration for easy data analysis and evaluation;
Fast, low-cost, flexible platforms based on open-use online apps.
Incident management
Overview ready-made applications:
We have various ready-made applications for the organization of your incident management. You can quickly start using these applications and adapt them to the specific situation in your organization.
Train your employees with our quality management system
Of course, your chosen solutions will only work to full effect if your staff receive appropriate training in a quality management course. As you would expect, we provide full quality management courses for UK healthcare staff. With the right quality management system course, you ensure everyone is fully equipped to make the most out of the possibilities your QM infrastructure provides.
Our quality management training UK programme covers the full spectrum of tools included in your chosen solution. That way, both the online and offline advantages of our software get used to maximum effect. Implementing quality management in healthcare course material is yet another way to integrate the do-plan-act cycle into every last component of the way you work in your everyday practice.
What is the process of incident management?
With the benefits clearly defined, we can now turn to look closer at the incident management process itself. Regardless of the differences between sectors and industries, there is a unifying methodology underpinning the incident management process flow across various lines of work. Evidently, all professionals recognize the need to identify and address operational risks seriously. This explains why almost any incident management flow chart will include the following essential steps:
Identifying, registering, and qualifying the incident;
Notifying the relevant actors of the incident and escalating if necessary;
Analysis and assessment of the incident;
Determining the best solution and promoting optimal recovery;
Closure and evaluation of the incident, emphasizing prevention of recurrence.
>> Get 14 tips for developing the best incident reporting forms!
These are just five basic steps in a detailed procedure that reverberates throughout the disciplines and departments making up your organization. Obviously, any incident management template requires customization to ensure it suits the specifics of your institution, your workforce, and your clients.
Rest assured, however, that our online incident management software facilitates any adjustments you and your patients may need. No matter what, though, we always make sure to let your chosen incident management system document all the relevant information you require. That way, we help you and your staff to constantly improve the services you provide while you prevent and eliminate patient risks as if it were second nature. That is the power of shared, intuitive, effective quality management software.
eBook: How to make the internal business case
Is your organization about to make the transition from paper to digital work? Or do you have a digital incident management system you want to replace? In both cases the best advice is to make a business case. Download our e-book and use it as a guide for writing your internal business case.
Benefits TPSC CloudTM software
With our software, a complete Patient Safety platform is ready for you.
1
Flexible platform
Access anytime, anywhere, securely managed in the cloud. Flexible and scalable to organize due to the modular structure. With many options to adjust each part to your own needs.
2
Easy implementation
Quick and easy to set up. Due to the user-friendly design, no programming knowledge is required for the implementation. Our consultants are ready to help with your configuration.
3
Low cost
Our software is a cost-efficient solution for patient safety management, because many of the building blocks have already been made for you! Suitable for both small and large organizations.
Want to learn more about our software?
Schedule a free online demo or discuss your needs with a specialist.
Learn things like creating an incident reporting form

See how easily you can analyse incidents and quality-related data