Software helps with quality and safety accreditation in healthcare
Updated at: 16 November 2022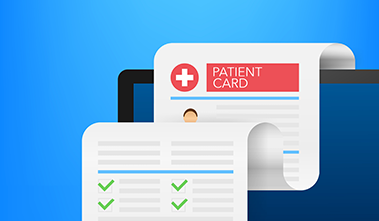 Healthcare organizations strive to provide safe and high-quality patient care at all times. However, claiming to be a safe care environment is one thing. Proving it is another. That's where hospital accreditation comes in. To receive accreditation in healthcare, hospitals must undergo a comprehensive review by an independent accreditation organization. Every detail matters.
Poorly managed workflows and seemingly minor oversights can make or break an organization's success. Without a proactive strategy, organizations can find themselves failing the accreditation process, thus losing the ability to:
Convey value to patients
Contract with certain payers
Stand out among competitors
Failure is also a blow to clinicians and staff who work hard every day to do the right thing for patients.
Still, patient quality and safety standards evolve frequently to reflect rapid advancements in healthcare, and it can be hard to stay abreast of the changes. Plus, staff are busy focusing on patient care, and rightly so. The more administrative barriers there are to incident reporting, for example, the less likely it is that the reports will occur. Every unfiled report is a missed opportunity to improve safety.
When a surveyor comes knocking on the door, those mistakes stand out and work against all of the organization's good efforts. Fortunately, accreditation management software can streamline processes so organizations can meet standards for accreditation requirements in healthcare more easily.
What is accreditation in healthcare?
Accreditation is a process by which healthcare organizations demonstrate their ability to meet certain regulatory requirements and standards set forth by recognized accreditation bodies such as The Joint Commission, Joint Commission International (JCI), National Committee for Quality Assurance, Utilization Review Accreditation Commission, and others. Although this process can be intimidating, forward-thinking organizations can use it as an opportunity to add value and improve patient care.
While healthcare organizations must adhere to national/federal and local laws and regulations, accreditation in healthcare is not mandatory. Healthcare organizations voluntarily pursue accreditation for a variety of important reasons explained below.
Why is healthcare accreditation important?
Accreditation in healthcare is important because of the message it sends to patients. More specifically, healthcare accreditation demonstrates a commitment to excellence in quality, accountability, and patient safety. It solidifies the organization's position in the community as a provider of quality care. It's a stamp of approval that gives patients the reassurance that they're making the right choice by seeking care at that facility. As such, accreditation may give organizations a competitive edge during a time when patient attraction and retention are critical.
Consumers can easily glean meaningful information about the performance of accredited organizations using The Joint Commission's Quality Check website. On this site, they can search for accredited organizations by city and state, by name, by zip code, or by Joint Commission ID number. They can also find organizations by type of service provided within a geographic area and then filter those results by accreditation decision, type of provider, setting of care, or patient population. They can also download free hospital performance measure results that show whether a hospital achieves the best possible results or whether it's performance is above the target range/value, similar to the target range/value, or below the target range/value. All of this information influences consumer healthcare decisions.
Another benefit of accreditation is decreased costs due to improved risk management practices associated with accreditation standards in healthcare. This bodes well for organizations participating in value-based payment arrangements. Hospitals that have achieved accreditation also have a framework for creating organizational structure and management as well as supporting continuous quality improvement efforts. They can easily identify opportunities for ongoing education and training, as well as standardize processes enterprise-wide. Finally, accreditation may be a condition of reimbursement for certain insurers or other payers. Insurers and other managed-care organizations view accreditation as an indicator that a hospital provides high-quality care for enrollees.
How can software help with the accreditation process?
Quality and risk management software can greatly enhance an organization's ability to prepare for an accreditation survey. For example, a structured digital event management system can capture (near) incidents, provide analytics, manage workflows, and monitor improvements. The sooner organizations can learn from these events and implement corrective action plans, the better prepared they are for an accreditation survey.
Organizations can also digitize the entire risk assessment and evaluation process. As part of this platform, the staff uses digital checklists as well as dashboards that help them understand risks and the status of all (sub) assessments. Digital assessments enable staff to quickly identify and classify risk so they can draw up a plan of action immediately thereafter.
Finally, solutions to manage and monitor improvement plans help organizations achieve strategic objectives by guiding staff through the improvement process. Many organizations have the best of intentions, but if no one monitors improvement, it's likely that no follow-up action will be taken. Organizations can link their software to other applications to start improving safety and quality directly following incidents, complaints, checklists, or audits. They can also use recorded information as proof of adherence and compliance with a variety of standards.
How do organizations achieve accreditation?
The answer is that it depends on the accrediting organization. The Joint Commission, for example, sends highly trained surveyors (e.g., doctors, nurses, hospital administrators, laboratory medical technologists, and other healthcare professionals) on-site to conduct an accreditation survey or visits at least once every 36 months. JCI offers several options for survey delivery, including in-person, virtually via video, or a combination of in-person and video. These surveys are unannounced, meaning organizations have no warning of when they will occur.
During The Joint Commission survey, surveyors select patients randomly and look at their medical records. They also talk with physicians, nurses, and other staff who have interacted with the patient, and may talk with the patient themselves. Observation is critical. The Joint Commission auditors want to observe how staff interact with patients and whether staff comply with regulations. For example, do they double-check each patient's name before administering medication? Do surgical teams call a "time out" to verify the procedure and other details before starting surgery? Do they mark the procedure site? Do physicians wash their hands before touching patients? Do staff evaluate patients for suicide risk?
Upon the auditor's arrival, organizations must be prepared to provide a variety of documents, such as:
An organizational chart
A list of all sites that are eligible for a survey
A list of unapproved abbreviations
Performance improvement data from the past 12 months
Emergency management drill records and after-action reports
A fall risk assessment and policy, and more
The Joint Commission surveys generally include these key activities:
A survey planning session
An opening conference and orientation to the organization
A dedicated leadership session
A competence assessment process
An environment of care session (including a building tour)
An exit conference for The Joint Commission survey team to present a written summary of findings
There are more than 250 hospital accreditation standards in healthcare that address a variety of topics: Patient rights and education, infection control, medication management, medical error prevention, emergency preparedness, and more. Hospitals must check all the boxes for each standard to receive accreditation.
How can organizations prepare for accreditation?
Preparation for a Joint Commission survey, for example, requires a step-by-step process during which healthcare organizations review accreditation requirements in healthcare, assess readiness, and address gaps. Many hospitals opt to conduct their own mock survey using Tracer Methodology to identify performance issues. This methodology includes three different types of tracers—individual or patient tracers, program-specific tracers, and system tracers—to identify performance issues in one or more steps of the care process or at interfaces between them.
For example, hospitals can conduct mock surveys to target known areas of noncompliance or high risk (e.g., screening assessments or flow of individuals across the continuum of care), examine vulnerable populations, or look at specialized programs or services. The goal? To uncover process or system problems that increase the likelihood of undesirable outcomes.
Healthcare organizations also conduct safety rounds that tend to have a narrower focus with limited staff involvement. Together, mock surveys, targeted tracers, and safety rounds help organizations prepare for the official survey. As the saying goes, practice makes perfect. It's better to identify problems before the auditor does.
What happens after an accreditation survey?
After a Joint Commission survey, organizations receive accreditation as long as surveyors haven't identified any Requirements for Improvement (RFI) in its post-survey report. This report identifies RFIs by risk, helping organizations prioritize resources and focus corrective action plans in areas that are most in need of compliance actions and interventions. If an organization receives RFIs, it must submit evidence within 60 days indicating it is in full compliance with those standards. Once The Joint Commission reviews and approves the RFIs, it will grant accreditation.
One of the most important steps an organization can take after a Joint Commission survey is to ensure that feedback reaches all relevant parties, including patient-facing staff. Organizations should communicate strengths as well as areas for improvement.
Conclusion
Achieving accreditation without the help of technology is certainly possible; however, why would organizations want to take that chance? Accreditation in healthcare is a complex and ever-evolving process that requires preparation, collaboration, and a lot of hard work on the part of everyone within the organization. Manual processes don't fit this narrative. Instead, digital workflows and reporting mechanisms streamline efficiency and make actionable data analytics possible.
It's about empowering staff to take control of quality and safety using automated workflows and real-time insights. Quality and patient safety management software eases the burden on staff so they can focus on what they do best: Provide high-quality patient care. Receiving accreditation is an added bonus.

Jens Hooiveld
International Marketing Manager