How staffing shortages affect patient safety
Updated at: 12 April 2022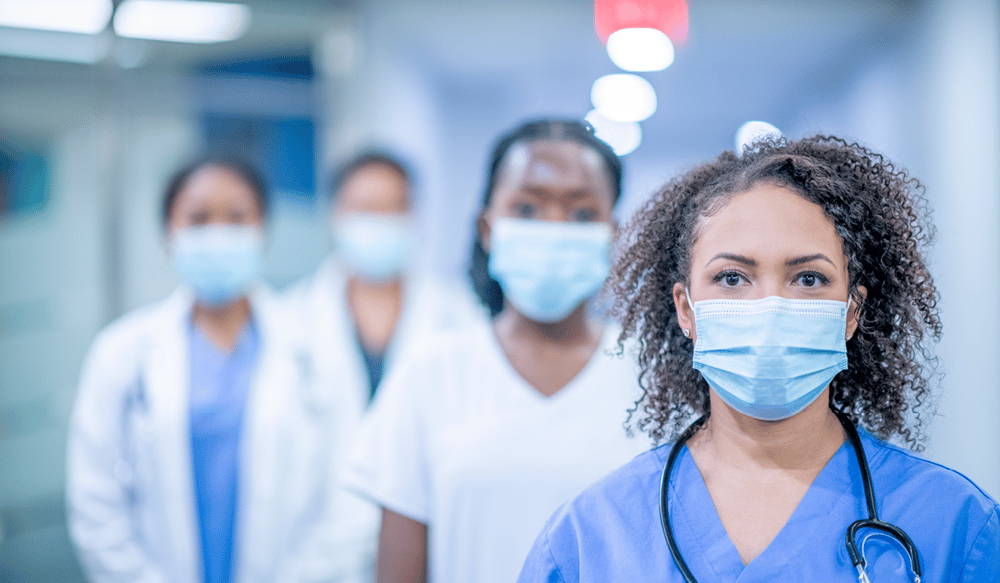 Severe staffing shortages have plagued healthcare organizations over the past several years, and between factors like COVID-19 burnout, an aging workforce, and the Great Resignation (in the United States, 4.3 million people quit their jobs in January 2022 alone), the problem is only getting worse.

Organizations are short-staffed, workers feel stretched thin, and hospitals are often slammed with patients who are sicker than ever before due to delayed care during the pandemic. However, safety goals are unchanging and must continue to be met. It's a paradox without an easy solution, but healthcare organizations shouldn't let staffing shortages affect patient safety.

Luckily, patient safety and incident management technology can help fill in the gaps and provide a safety net for workers and patients alike, and create a path to improvement.
Why appropriate staffing is crucial to patient safety
Having appropriate and adequate nurse staffing is one of the basic elements of healthcare organization management and for good reason. Nurses not only provide care to multiple patients per shift, but nurse teams are the sentinels of healthcare safety, monitoring patients 24-hours a day and responding to their needs in real-time. Such responsibilities require constant vigilance from nurses who have the right skills to handle the kinds of patients they're caring for and their particular needs.

Appropriate nurse staffing is complicated and involves many variables, from nurse skill mix to patient acuity, but at its most basic, having enough nurses at the bedside to effectively monitor and respond to patients and their needs is imperative for quality management. Because of this, it makes sense that research has tied so many safety and quality indicators to nurse staffing. Nurse-to-patient ratios and overall nurse workload are linked to safety factors like medication errors, pneumonia, and even in-hospital mortality.
A staffing emergency
Despite the ongoing need for adequate staffing, the healthcare workforce shortage is reaching a critical peak—and safety and quality management are getting harder to maintain.

In fact, ECRI named staffing shortages among its top 10 patient safety concerns of 2022, underscoring that clinical and non-clinical staff shortages have been a problem since before the pandemic and that it's only getting worse. For instance, it cited data showing that in 2020, hospital registered nurse turnover was 18.7% (U.S.).

The organization points to multiple factors as contributors to the nurse staffing emergency beyond simply COVID-19 burnout, including a growing number of nurses who are at or nearing retirement age. While retiring nurses might normally be replaced by a steady stream of new nurses, that's not happening.

And according to a World Health Organization report, "The State of the World's Nursing 2020," more than 80% of the world's nurses work in countries that are home to half of the world's population. One in every eight nurses practices in a country other than the one where they were born or trained, and aging is also a threat to the workforce: One in six of the world's nurses likely will retire in the next 10 years.

In addition, there's also a worrying shortage of nursing students. According to the American Association of Colleges of Nursing, 80,407 qualified nursing school applicants were turned away in 2019 due to factors like inadequate faculty, clinical sites, classroom space, clinical preceptors, and budget.

The staffing problem isn't limited to nurses only. ECRI's report noted shortages of medical, laboratory, and other technicians, as well as nursing assistants, pharmacists, physicians, and other clinicians.
The consequences of poor staffing
No matter the industry, having fewer employees available to do the same amount of time-sensitive work will not only make the work take longer, but will cause the quality of that work to suffer. That, in turn, raises the alarms about safety for both patients and staff.
In the healthcare industry, lower-quality work can have devastating outcomes. Numerous studies show the consequences of poor staffing on quality management and patient outcomes in healthcare settings.
Several studies on the healthcare impact of poor staffing:
For instance, a study published in the European Journal of Cardiovascular Nursing reviewed 35 previously published studies about nurse staffing levels on patient outcomes and found striking links between the two. Higher staffing levels reduced mortality, medication errors, ulcers, restraint use, infections, and pneumonia. Higher staffing also resulted in greater aspirin use and more patients receiving percutaneous coronary intervention within 90 minutes.
One study in the Journal of Nursing Administration found that "the lower the proportion of professional nursing staff employed on a unit, the higher the number of medication errors and wound infections."
Another in the Journal of Nursing Care Quality found that lower nurse staffing levels were associated with a higher rate of patient falls.
And perhaps most damning of all was a New England Journal of Medicine study showing that staffing registered nurses below target levels was associated with increased mortality.
There's also the issue of missed nursing care to consider, which occurs when needed nursing care is delayed, incomplete, or not completed at all, such as missing a scheduled medication dose. Research in this area also links outcomes with staffing levels. For instance, nurses in highly staffed units had much lower numbers of incidents of missed nursing care, and nurses on those units were significantly less likely to miss turning patients, mouth care, bathing/skincare, patient assessments in each shift, assistance with toileting, feeding, and setting up meals, an Internal Nursing Review study found.
Other nurse-sensitive patient outcomes strongly impacted by inadequate staffing include the length of stay, patient dissatisfaction, poor quality of nurse-delivered care, and readmission, another literature review found.
Moreover, strained nurse staffing levels actually seem to cause the inadequate staffing situations to become worse. Chronic nurse understaffing and burnout was common even before COVID-19, and burnout leads to lower nurse satisfaction. In fact, a Nursing Outlook study showed that even an increase of one just one patient per nurse was associated with an 8% increase in odds of job dissatisfaction and a 1.05 times increase in a nurse's intention to leave their job.
Incident management tools can help
Clearly, adequate and appropriate staffing is one key to ensuring patient safety, but it's also important to provide tools to help nurses and other staff members stay on top of incident management and near-misses that occur, especially when healthcare organizations are already short-staffed.

Reporting incidents is important for ensuring quality for many reasons, including keeping staff members and organizations hypervigilant about their daily operations, helping to understand when and why incidents occur, and providing actionable data that can predict and prevent future incidents.

Although incident reporting has often been met with resistance by nurses, it's important for healthcare leaders to provide a non-punitive environment for their staff, to be honest when incidents or near-misses occur. Leaders should clearly communicate that incident reporting will not lead to punishments.

Another reason incidents and near-misses are sometimes underreported is the administrative burden involved with reporting. That's why many organizations turn to incident management software, which allows reports to be made seamlessly on a digital platform. Incident management software can also take the work of reporting even further. By digitally compiling incidents and near-misses, organizations not only have the capacity to collect and compile the reports, but also analyze them. It allows leaders to notice trends, anticipate issues, and put actions in place to ensure that the incidents don't happen again. It can also analyze incidents in different ways, such as determining whether a system or human error caused the problem.

When incidents require follow-ups or specific actions, electronic tools provide needed alerts or ensure that the information gets to the right database or person. Each of these functions helps staff stay on top of keeping patients safe, which is especially important when healthcare organizations face staffing challenges.

Adequate and appropriate staffing is critical to keep patients safe. Providing incident management resources that are mobile-first gives staff members another tool in their toolbox for providing the best care possible.

Jens Hooiveld
International Marketing Manager